Delhi Street Style Chole Recipe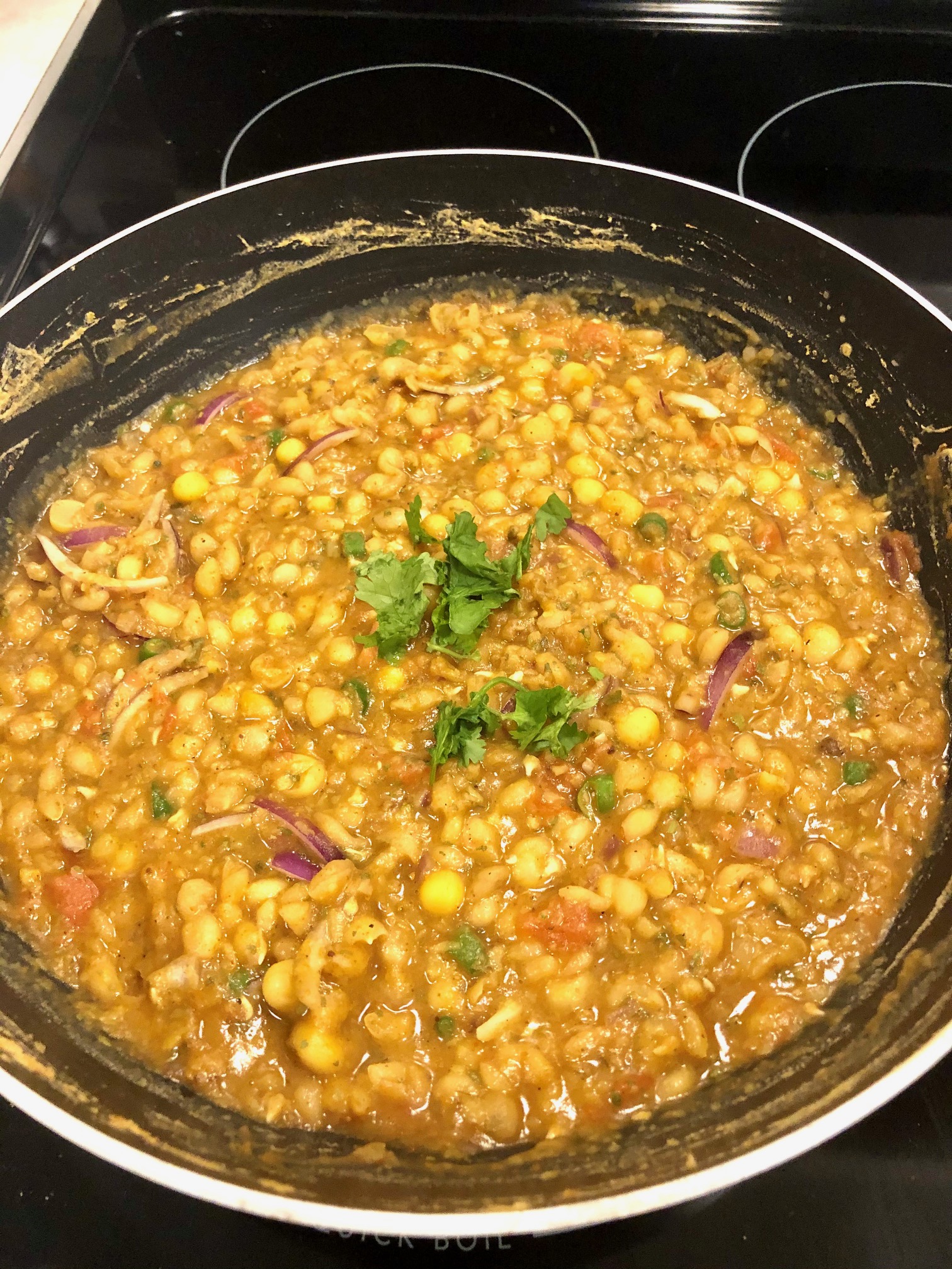 Spicy Matar / Chole (White Peas)
Strolling through the Indian Grocery Aisle at the Supermarket one day, I happened to suddenly get an accidental glance at a packet of White Peas. It was like a long-lost childhood friend was suddenly in front of me!!! Ohhh the flashback of Sunday mornings, with my cousin over at my place enjoying this scrumptious breakfast – Chole Kulche.
Excitedly I picked up the packet, cooked the chole and relished the memories, in my home away from home.
Delhi Flavour
In Delhi, every street or a colony has a vendor selling the most delicious plate of chole kulche. Few used to make black in color like chole bhature types, and few used to make just like that. The only thing constant was the taste, tha was never compromised, from Old Delhi to New Delhi.
Now, it's very hard to find the authentic Delhi wala Flavour, anywhere else in the world. Even in India, you cannot find the Delhi Flavour in any other city, except for Delhi. I don't know why that is, but I do know, every city has the same items with that city's own unique style. Sadly, abroad the uniqueness of Indian dishes are fading away in the world of Blandness…..
Can I tell you a secret though?? It is not hard to get this flavour that I keep talking about. You just need to know the right spices, and you need to have a free hand when it comes to measuring the spices. The street sellers – they don't use the concept of Teaspoon or Tablespoon. It's the free-flowing spices, guess-work, that is cooked together, and that my friend brings out the flavour in the food.
Nevertheless, I will tell you about the measurements for this "No fuss No mess Matar/Chole recipe". You can make it black in colour too, like the chole bhature types. I will share that recipe in the next post 🙂
Ingredients
Very basic ingredients and you got yourself a yummy bowl of Street style Matar.
Main Ingredient –
Yes you guessed it right – White Peas / Matar
Supporting Cast & Crew-
Onion – chopped and sliced.
Tomato – chopped
Green chillies – chopped.
*Disclaimer – I love spicy, my food is super spicy, so please do adjust the quantity as per your spice level.
Salt
Red chilli powder – please adjust as per your spice level.
Chaat Masala (MDH Chaat Masala is the BEST!!!)
Zeera Powder/ Cumin Powder
Chana Masala
Amchoor Powder
Garam Masala (this I prefer less, you can adjust to your taste)
Kala Namak/Black Salt as per taste
Lemon
Steps to this Masterpiece –
Wash the peas nice and clean 🙂 Soak them in water for at least 4 to 6 hours.
Boil them in the same water. I didn't pressure cook them. Although being a Lazy Chef I should've, but those usually come out dry and I don't prefer too dry. If you're using the pressure cooker, cook first on high flame, after the first whistle simmer down and cook for 8 to 10 mins.
Once soft and squishy, add the chopped tomatoes and chopped onions first.
Add all the spices.
Mix it up and cook for 2 minutes to let the spices blend in.
Ready to be served – Add the sliced onions and green chillies and Lemon Juice for that tanginess 😉
Enjoy this Delhi-cacy with Kulcha(if you can find the authentic ones near to you), Naan or if you're Lazy like me it goes great with ghee roasted Bread as well. ENJOY 🙂 🙂
Recipe Card

FAQ's
---
---